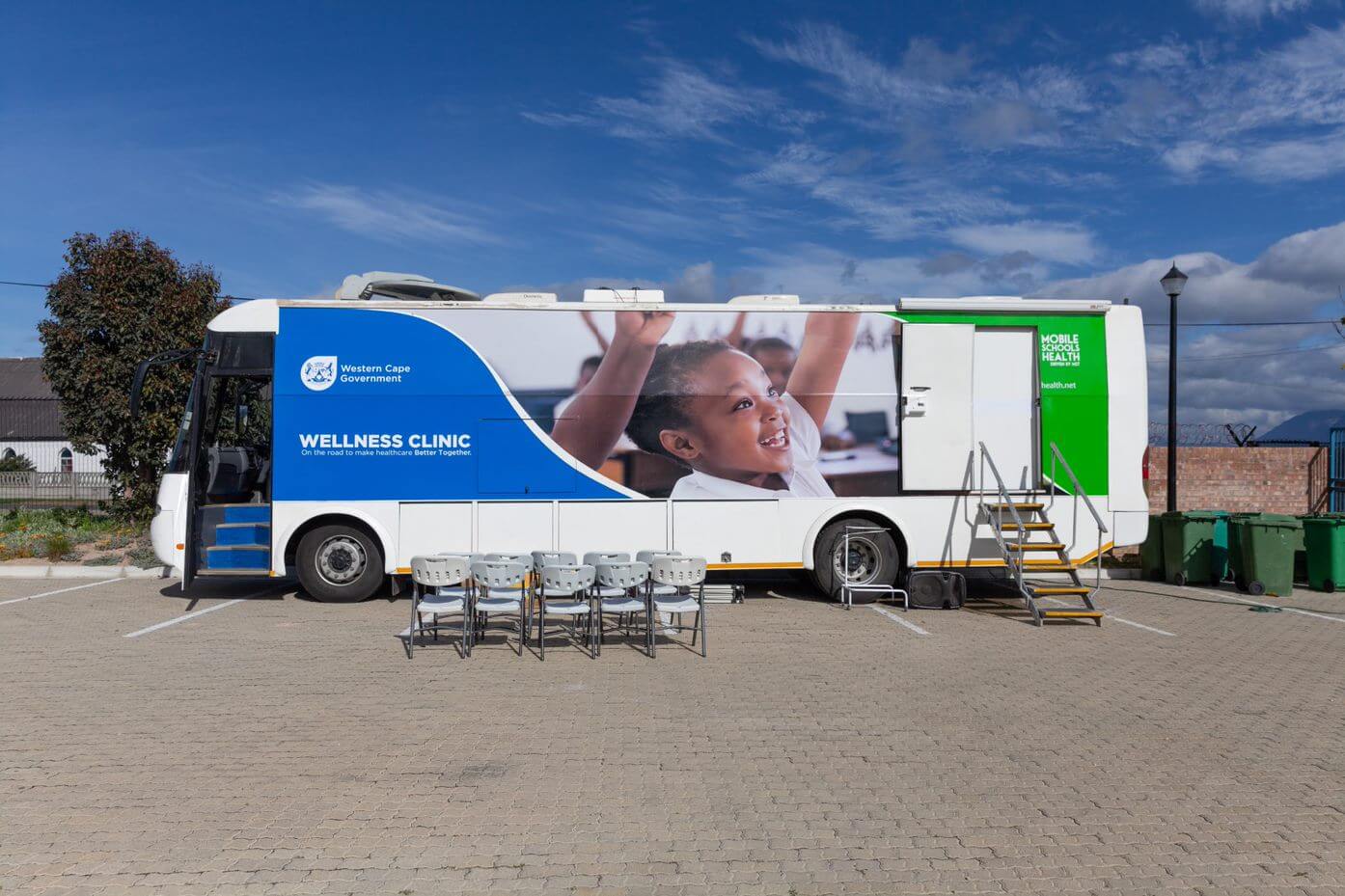 A featured article in the Leadership Magazine – Edition 402, April 2019.
The urgent need for basic services prompted Xtend to create a mobile platform that caters for extending resources to underserved areas through the use of mobile units, starting in South Africa.
The incomprehensible level of poverty and oppression across the globe has motivated Xtend to design, manufacture and operate mobile units to address some of Africa's most pressing needs. The comprehensive mobile solutions that have been developed offer healthcare, education and administrative services to communities in need.
Xtend oversees four main solutions – the Xtend Mobile Schools Health Programme, which delivers preventative healthcare services to children in underserved and under-resourced primary schools in South Africa; the Mobile Health Clinics Programme, offering a range of solutions that provide specialised quality healthcare services to adults; the Mobile Student Future Programme, operating customised mobile classrooms that enable educators and students to access education and training programmes; and finally, the Mobile Processing Solutions Programme, which manages mobile offices that make public administration services more accessible to communities with little infrastructure. We sat down with one of Xtend's Directors, Sandile Mzonyane, who elaborated on the company's role and the impact mobile solutions have on social development.
Please provide us with an overview of your company. How was it formed and how did it grow to where it is today?
The origin company began in 2005. At the time, the focus was on building mobile units – customised vehicles to carry out an array of services. We were initially building and delivering the units without providing our clients with any additional operational support. As the company grew, we started to identify the need for specific operational and maintenance services if we wanted the vehicles to stay on the road and create a sustainable impact. This led us to shift our focus from being a purely manufacturing company to rather providing a turnkey solution offering our clients data solutions, staffing, as well as all operational, IT and maintenance support. We furthermore established specific solutions specialising in the industries of education, healthcare and administration – areas we saw to be the most in need of disruption.
What is your role at the company?
I am a Director of Xtend, and the CEO of Innovative Mobile Solutions, which focuses on our education and administrative mobile units.
Please could you tell us more about your career background?
I am the founder of Amba Investments, the holding group for stakes in transport innovative solutions, property, manufacturing (rope, shade cloth and netting), fishing, training solutions and mobile initiatives. Before that, I was at Metropolitan Momentum for eight years, focusing on government business and pension funds. I joined Xtend in 2012 and have been with the company ever since.
What have you learnt from your experience with Xtend? In terms of the areas you are focusing on, what needs to change and what is working effectively?
As I mentioned earlier, when we started working on these solutions, it was because we saw a need to take services to the people. We quickly realised there were potential partners across the country – even across the world – who shared our vision and were seeking an innovative way to deliver services in needy communities around the country. That was a key learning for us at Xtend – the power of collaboration. Some of the highlights that arose from these partnerships include our initiatives that bring healthcare to primary school learners in collaboration with provincial governments, our mobile unemployment registration project with the Department of Labour and our programmes that offer mobile HIV testing and treatment initiation with some of the biggest non-profits interested in public health. Mobility also offers solutions to challenges that public systems have been experiencing for years. A good example relates to HIV testing. Typically, people are very reluctant to go to their local clinics and get tested. This is especially true for men – there is still a massive stigma attached to the virus and it's a huge barrier to treatment in communities around South Africa. We've found that people feel a lot more comfortable when a high-tech, modern mobile unit comes into the community and offers these same testing, counselling and treatment services for HIV. The high-quality look and feel distance the experience from the typical public clinic facility, and the fact that the staff is not from the local community means patients feel assured that their status is in safe hands. Mobility, thus, has the potential to make a significant difference in communities, and not just in terms of healthcare. The services are also not limited to the government in particular – the cost-effectiveness means mobility as a service delivery method appeals to corporates, NGOs and international foundations as well. I think one thing we haven't harnessed yet is public brand awareness. As more organisations become aware of what we're doing, we're confident that we'll find many more allies who are excited to get involved and launch new, creative mobile solutions with us.
You have partnered with different entities but there must be scope to do more. What are some of the initiatives in the pipeline?
In terms of the pipeline, we've already started the initiative of a mobile office where the public can renew drivers' licenses. Onboard, we'll conduct testing and actually issue licenses – helping to ease the workload of the local Traffic Department offices and save the applicants time, who would otherwise be standing in queues all day long. We plan to go to taxi ranks and large companies, especially in the automotive industry, to help them complete their eye tests and drivers' license renewals. Additionally, we've started negotiating with the Department of Home Affairs to try to extend our solutions to them. We all know how backed up the agents at DHA and other government departments are, so we know Xtend could provide some much-needed relief. We're also looking to diversify our own solutions. For instance, we're hoping to support the wellness industry by encouraging corporates to provide workplace wellness services to their employees. We are busy developing a mobile solution in partnership with experts in the space to ensure the product solves the current challenges in the industry.
How does Xtend utilise modern technology in its solutions?
The world is changing. We're in the midst of the Fourth Industrial Revolution, so we had to change as a company – formulating strategies and solutions that are in line with the future. To make sure that we remain relevant and competitive, we constantly innovate and develop our solutions to make sure we're offering clients the best possible products. We have assembled a team of software developers and technology experts who have supported our work in mobility by creating tools that maximise transparency, accountability and efficiency. We also found that with this speed of change through technology, everything actually becomes easier for the end user. A good example is our focus on transparency – it allows our partners and funders to see exactly what's taking place in the field from the comfort of their offices. This is crucial as it means we are connecting people to the impact and making sure they see what their investment is really achieving.
What happens to your data and who has access to your servers? What do you do with the data afterwards and how do you ensure its security?
For our Xtend Mobile Schools Health projects, the data belongs to our government partners, for example, the Western Cape Department of Health. They are the only ones with access to the assessment information we collect, and simply combine it with the rest of their data collected at traditional, brick and mortar facilities. With other projects, such as our mobile land claims registration solution, the data is handed over to the relevant department – in that case, the Department of Rural Development and Land Reform. All our systems have been designed in compliance with POPI. To ensure we're not in violation of any privacy regulations, our default is to give our client the responsibility of ownership of the data.
Xtend is an exciting social business looking to create impact at scale. Thank you to Mr Mzonyane for this look into the company's strategy. Mobility seems to be a promising way to secure a brighter future in South Africa and beyond.